Smart Alarm System
The latest technology state of the art Megasystems alarm panels have built in smart features to automate your business and help you be aware of everything that is happening in your office.Thermostats control, lighting control, sensor activity monitoring to name a few features. Call us today to learn more about our smart alarm systems.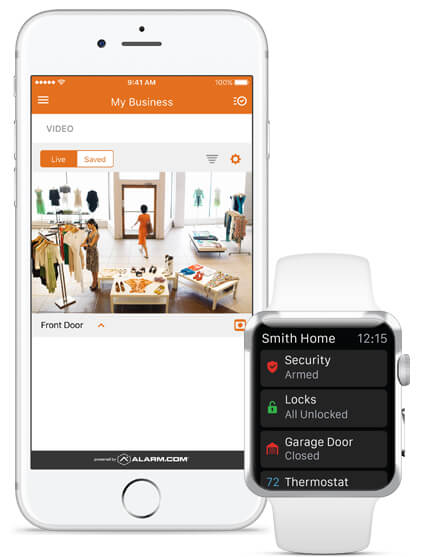 Smart Security For Business
Assignment of user code for each employee. Extensive monitoring reports on opening and closing activities.Scheduled arming and disarming of your systems upon request. Management of multiple partitions and multiple sites from one user friendly portal or App. Call us today to learn more about our Smart Security for Business.

Business Alarm Monitoring
Have peace of mind by knowing that your business is professionally monitored 24/7 by UL approved monitoring station. Fastest respond time well above industry standards. Customized emergency contact list and protocols to be tailored to the needs of your facility. To learn more about our monitoring capabilities call us today.

Power G Technology
Cut out the wires and plug in peace of mind with PowerG, the leading wireless security technology for today's homes and businesses. PowerG offers all the benefits of traditional wired security, without the hassles and vulnerabilities of wires. It makes end-users' lives more secure and convenient, and your work more profitable. Ultra-reliable, two-way 128-bit AES encrypted communication and iron-clad protection that blocks interference deliver unparalleled cyber protection – ensuring reliable performance with minimum false alarms. Long-range wireless transmission enables easy and quick wire-free and repeater-free installations, and adaptive transmission stretches time between battery changes.
Up to 4 Different Partitions
Control your facility with up to 4 different partition from one smart easy to use touch panel. This feature allows that different areas of your building can be armed while other areas will be disarmed. For example you can have your warehouse and offices areas armed while your sales showroom is disarmed. To learn more of how to apply this feature to your business contact us today.
Know When Your Employees Arrive
By creating a unique user code for each team member, you can monitor their arrival with a simple push notification and picture sent from the touch panel once system is disarmed. This is a great feature for facility managers as they spend less time on administration tasks and more time managing business activities. Call us today 713.668.8818 to learn more on this great feature and how to integrate it to your alarm system.
Commercial Security Dashboard
At Megasystems Security we understand your business owner needs. Whether you are away on a business trip, or at your office we will provide you with a security dashboard that will allow you to get critical data about your security system. The virtual dashboard is available for all smart devices as well as intuitive portal that puts all data and control under your finger tips. Call us today to learn how Megasystems Security can enable all of those features for you.