What Is A Smart Alarm System?
A smart alarm system is an alarm system that uses wireless technology on a commercial or residential network. You can access and control the alarm system wirelessly from any phone or computer with the proper credentials. It uses a 4G LTE network to deliver alarm signals immediately to a designated dispatch center for any emergency services required. For commercial alarm installations in Houston, TX, MegaSystems Security is here to help. Our goal is to provide our clients with top-of-the-line security equipment to ensure their personnel and products are secure from any outside intrusion. This will mean peace of mind for you and the convenience of controlling your commercial security system from the palm of your hand.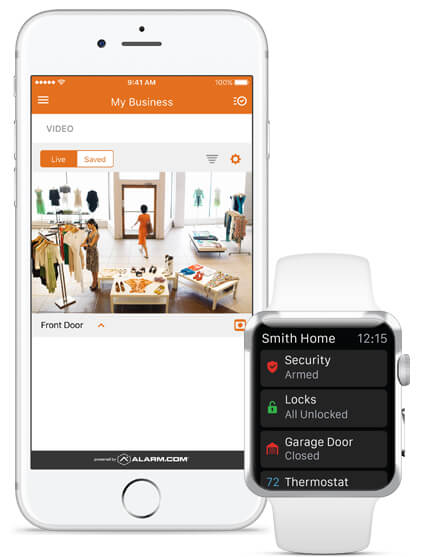 Smart Security For Business
Assignment of user code for each employee. Extensive monitoring reports on opening and closing activities. Scheduled arming and disarming of your systems upon request. Management of multiple partitions and multiple sites from one user friendly portal or App. Call us today to learn more about our Smart Security for Business.

Business Alarm Monitoring
Have peace of mind by knowing that your business is professionally monitored 24/7 by UL approved monitoring station. Fastest respond time well above industry standards. Customized emergency contact list and protocols to be tailored to the needs of your facility. To learn more about our monitoring capabilities call us today.

Power G Technology
At MegaSystems Security, we use PowerG—the leading wireless security technology for homes and businesses—to improve your commercial alarm system's convenience, security, and reliability. Did you know your security system could take care of administrative tasks? By creating a unique user code for each team member, you can track their arrival and departure. Not only for payroll, but in case of an emergency, you can establish which of your employees were in the building.
Up to 4 Different Partitions
At MegaSystems Security, we know that more extensive business facilities may need to arm and disarm other areas of the premises at different times. Maybe you want to keep your warehouse armed while keeping your office building unarmed. For a professional commercial alarm installer in Houston, contact the pros at MegaSystems Security. No smart alarm system installation is too complicated for us! Easy access to a virtual dashboard. No matter how tech-savvy you are, simpler is better. You're too busy to perform complex operations to pull security reports and arm your system. MegaSystems Security has you covered.
Know When Your Employees Arrive
By creating a unique user code for each team member, you can monitor their arrival with a simple push notification and picture sent from the touch panel once system is disarmed. This is a great feature for facility managers as they spend less time on administration tasks and more time managing business activities. Call us today 713.668.8818 to learn more on this great feature and how to integrate it to your alarm system.
Commercial Security Dashboard
At Megasystems Security we understand your business owner needs. Whether you are away on a business trip, or at your office we will provide you with a security dashboard that will allow you to get critical data about your security system. The virtual dashboard is available for all smart devices as well as intuitive portal that puts all data and control under your finger tips. Call us today to learn how Megasystems Security can enable all of those features for you.