Here is Why You Need a Smart Commercial Alarm System in Dallas
Corporations deployed more building troubleshooting tools than ever before. Thermostats control, lighting control, and sensor activity monitoring are just a few of the many possible solutions. Yet when problems arise, deducing its source often seems like sifting through a haystack to find a needle. The right partner and the right tools address those shortcomings so well that managing your facility becomes as simple as checking an alert on your smartphone.

Time is an executive's most valuable asset. In many cases, they waste it trying to determine if anything of note is occurring in their building. New solutions now take on the bulk of the tedious work in monitoring a facility. Automated systems sift through information and only alert executives when a problem has arisen. State-of-the-art, multitasking, commercial-grade alarm solutions empower small and medium business owners, so they spend more time on business differentiation and less on ensuring that their facility runs effectively. These products deliver better security, have more control, create less inconvenience, generate less waste, and empower you to see what is happening at work at any time from any place, and with any device.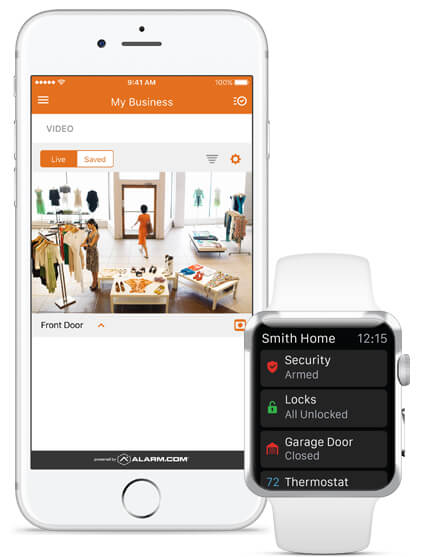 Smart Commercial Alarm Systems Feature Easy to Use Dashboards

Executives and facility managers want to be aware if anything is amiss in their building, but they do not want to sit there all day and all night staring at computer screens to see when a problem arises. Nowadays, that is no longer a requirement. Alarm systems have become smarter and easier to use. In fact, our latest alarm systems provide managers with real time visibility to their building via network connections and smartphones.

These solutions monitor a wide range of devices: thermostat controls, lighting systems, fire alarms, surveillance systems, and other sensors. The products are constantly on guard: sensors work 24/7 and are not distracted during the day or night. Their software is so intelligent that it separates routine notifications from problem behaviors. They automatically alert you if something is amiss, suspicious activity is occurring, someone forget to set a sensor, or a dramatic change in temperature occurs.

Such notifications are forwarded to you in real time, and you do not have to wade through complex screens or enter obtuse commands to understand what is happening. The information is clearly displayed on your smartphone, and fixing a problem is as simple as sending a text. Our systems work whether you are away on a business trip or at your office. With them, you control your building rather than vice versa.

Business Alarm Monitoring
Dallas

Managing a facility nowadays is a time consuming, often all-encompassing task. Thoughts about their facility are with executives even when they are not at the site. If a serious problem arises, you want to respond to it ASAP.

MegaSystems Security alarm monitoring in Dallas provides executives with peace of mind. The service ensures that someone watches your business 24 hours a day, seven days a week. When a problem occurs, a certified monitoring station answers the call. We deliver such information rapidly to you, well above industry standards.

The MegaSystems Security difference is our focus on your business. We customize emergency contact lists and protocols, so they meet the needs of your facility. With it, you are sure that your facility is being guarded.

Power G Technology
Connecting smart sensors to enterprise networks has often been complex and time consuming. Rather than wired connections, wireless systems from vendors, like PowerG, are much easier to use. You do not have to find ways to run cabling through walls or around cramped cubicles. You get all the benefits of traditional wired security, without any of the wiring hassles. Long-range wireless transmission enables easy and quick wire-free and repeater-free installations, and adaptive transmission stretches time between battery changes.

Companies want to be sure that their information is protected as it travels from place to place. The system features ultra-reliable, two-way 128-bit AES encrypted communications that delivers iron-clad protection. With it, you gain robust, safe, secure communications.

Create Different Partitions
The items in your building have varying degree of value. With our system, you control the level of security provided to each. Information in an area, like the computer room, can be armed while other places, such as your foyer, are open. As a result, security becomes a convenience rather than a burden.

Know When Your Employees Arrive
Facility members often are not at their desk, and instead travel from location to location to service devices and troubleshoot problems. With MegaSystems Security solutions, you create a unique user code for each team member. Then, the system, monitors when they their arrive. If they perform a task, you are immediately notified. For instance, a simple push notification and picture is sent from the touch panel if a system is disarmed. As a result, you spend less time on tedious administration tasks and more time on business activities.

Leading Edge Alarm Service in Dallas
Why should a select company MegaSystems Security? We are a one-stop destination for alarm systems. We work with industry leaders, so our solutions are secure, include robust features, are simple to use, and fit your budget. We have certified technicians with many years of experience in such installations. They know all makes and models and understand how to piece together these complex solutions quickly and cost effectively. Our friendly technicians will answer any questions you may have along the way. Here are a few ways you benefit by calling us:

• We deliver and install alarm solutions tailored for your needs.
• We have an experienced and qualified staff of engineers and technicians.
• Our technicians use advanced technology, equipment, and tools for installation.
• You become more productive.
• We listen to our clients and provide them prompt customer support.

The MegaSystems Security Difference
MegaSystems Security has been in the Dallas market for years and provides products and services for different industry sectors, such as office, hotel, restaurants, schools, government office, media, and telecom. Our technicians are highly experienced and have the skills required to provide a thorough evaluation, installation, and maintenance of your alarm system. They test the equipment before leaving your property. If you have any questions following the installation, our techies are available to answer them and will return to your property to make any adjustments, if needed. For high-quality, reliable, and affordable alarm system installation and monitoring, Contact us today